Grains
An article by Grain Brokers of Australia, highlights the impact of the potential Chinese ban has had on driving wheat prices down. QLD premium grade fell $40/tonne and feed grade by $20-$25/t. NSW drops were between $15/t -$25/t premium and $20/t feed. Vic and SA weren't dissimilar with WA down $15/t. The fall is such that now Ozzie wheat is $10/t less than wheat from the Black Sea region, but the huge crop is putting pressure on bin capacity so there's a lot of willing sellers around despite the price drop.
Having said that, the USDA (US Dep't Ag) are predicting an increase in Chinese demand based on:
dry conditions in the Black Sea region
poor planting conditions in China
large spikes in corn and soybean prices make wheat a more attractive stock feed option.
Even if China drops out of the market it may not be as consequential for growers as barley given that during the record production year of 2016-17 Chinese shipments were less than 2m tonnes or 9% of total wheat exports. Plus it's expected that the double benefit of Australian quality and price will be very attractive to traditional Asian consumers.
Latest ABARES estimates are for a crop of 28.91 tonnes, which may now be 32m tonnes because of one of the wettest October across southern and eastern Australia in two decades. Still a bumper crop.
With other crops it looks like forecasters agree that corn, soybeans and canola are looking good in terms of volumes and returns though there is a disagreement over barley where ANZ Bank and Rabobank predict it to be strong but one commentator saying prices will fall to 17% below the world indicator (a reflection of the China tariff). Canola is predicted to be up 47% odd in volume with expected high demand on the basis that the competition coming from major producer, Canada, is genetically modified in contrast to the non GM Ozzie product.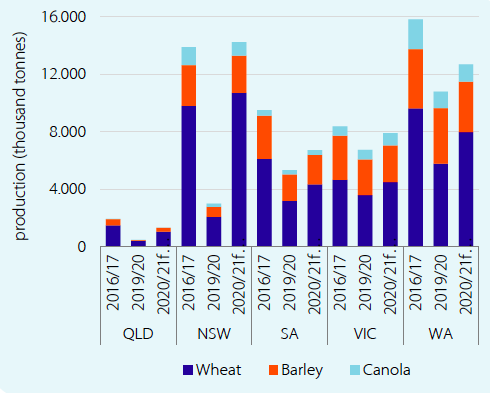 Dairy
National milk production is set to increase this season, as favourable weather, lower input costs and relatively firm farmgate milk prices support some of the best dairy farming conditions of recent years, according to Dairy Australia's October Situation and Outlook.
Production is set to break through the 9bn litre mark amid its first increase in three years. Production hit its highest levels in 2001/02 of 11.3bn litres with much of the subsequent decline being attributed to land transitioning from dairy to sheep and beef, with Tasmania, Gippsland and South Australia leading the charge. Increased milk supply in most regions is also supporting 'cautious optimism' for improved farm profitability.
The report highlights significant changes in consumer purchasing habits resulting from COVID-19. While foodservice and route channel sales have declined due retail dairy sales have been fuelled by increased levels of home cooking and baking.
Supermarket sales of butter have surged 18.2%, cheese by 6.4% and plain Greek yoghurt by 7% in volume in the past 12 months, with larger value packs preferred over single serve items. By contrast sales of flavoured milks in convenience and petrol stores fell 19%.
And despite some saying global prices are uncertain because of covid, the general feeling is that prices will hold, volumes will increase and dairy farmer feed costs will decrease due to strong pasture growth.
Good to see ABARES estimating a 37% increase in EFS (effective farm surplus) for the year just gone.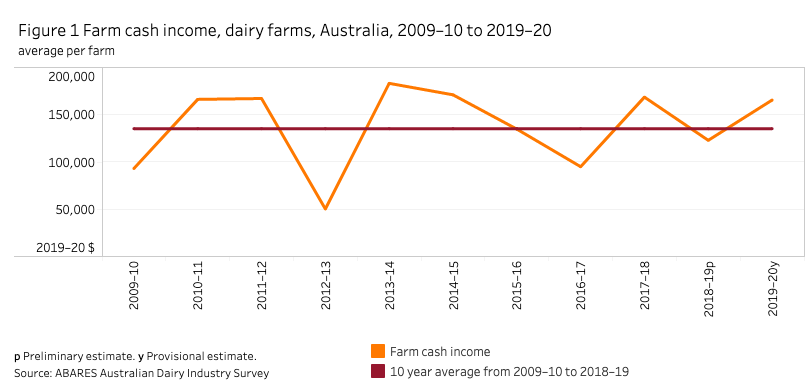 Machinery sales
From Oct 6th the tax write off of up to $150,000 was lifted to an uncapped amount on all assets which has provided another boost to machinery sales.
Quad bikes and side by sides have increased by 44%. Some cite quad sales also being boosted by legislation mandating roll over bars on quads by October '21. At this time Honda, Yamaha, Suzuki and Polaris have all given notice they will withdraw from the market though the ACCC can't figure out why and on the surface on it, neither can I. The roll over bars may look a bit odd but fitting them doesn't seem very hard.
Kondinin reports a great time for tractor sales just keep on getting better in Australia where the third quarter of the year saw almost 3000 deliveries – the best Q3 result since 1981. The 2927 figure is 24.5% up on Q3 last year and has put the annual sales tally on track for 13,000. The only caution looking forward seems to centre on supply with the disruption to freight throughout Europe.
The demand for tractors increased in Q3 in all but the largest horsepower categories.
Under 30kW sector -2304 tractors sold, up 29% compared to Q3 2019
30-75kW category, sales were up 22.3%t to 3190
75-150kW saw a boost of 30.7%, to 3313 units
150kW-plus sector sales were down 8.7% to 1107.
Queensland recorded a 13.6% increase to 2198 tractors, New South Wales was up 30% to 2750 tractors and Victorian sales jumped almost 29% to 2690. Tasmania up by 25%, to 420 tractors, SA up almost 34% to 881 and WA recorded a slight drop of 3.5% to 891 tractors.
Cotton
Now we see China's National Development Reform Commission is to "discourage" mills from using Australian cotton. Really bad news given 60% of AU's cotton exports (@ $750m) go to China with speculation of a 40% tariff being slapped on AU cotton to China.
Australia is one of the world's biggest cotton exporters and produces a very high quality crop so that has to count for something but this has been in the wind for a while. And whilst AU officials bemoan the timing, with the long list of other products being marginalised by China, this shouldn't be a surprise.
Beef
China – in May beef exports to China peaked at 24,000 tonnes and have fallen month on month to 10,000t in September; October 2020 they reached a massive 81,314t. All roads point to the Chinese New Year, which is huge for them, and though it looks good now, in 2019 prices fell significantly following this period. This appears likely again given, not only will we be past their holiday season but they will of course suddenly remember their directives to forego AU imports.
Sale Yards – at the sale yards, prices have stayed consistently high through re-stocker demand and driven by grass growth. Farmers are paying top dollar with prices hitting a record $801c/kg in QLD, and reflective of low stocks brought about through drought. That's about $3/kg more, and that's a lot and explains why AU cattle remain the highest in the world.
Herd rebuilding will have a negative effect on slaughter numbers into next year, and even if prices hold, farm returns will be down due to the lower kill.
Lamb, sheep meat
Same story as beef – lambs reached a record in October for this time of year @ $824c/kg but then dropped to $774 – still good.
A couple of recent headlines:
price trends blitzed to make new state sale yard record at Jamestown
first-cross ewes to $408, Merinos to $332 at Wycheproof
Again it's all about cashed up farmers restocking with lots of grass and flock numbers falling to 63m. Consequently the sheep meat kill is down 40% YOY. Lamb kill is slightly behind YOY and is predicted to fall 6% year end. Exports to the US are up 25% on 2019 and Papua New Guinea and Malaysia running strong. China is down 28% with the Middle East also being down.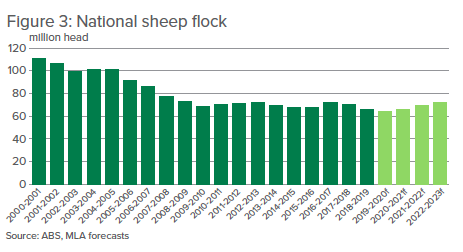 Wool
China takes >80% of Australian wool so The Woolmark Company is undertaking a digital campaign positioning Merino wool as the most sought after of fibres. It's called Merino Sisters and features Chinese celebrity Laura Lou. If you want a look at it click here. In China the use of KOL's (key opinion leaders) is flat out huge and demand at wool auctions in Australia has seen increased demand from China despite the market in a seesaw pattern currently. I'll leave you to your own opinion re the ads.
Southern NSW wool broker Marty Moses said while the wool pipeline had been sitting idle for a while there was finally some pull through as demand in the knitwear market — particularly online — was rising. "We need to be really careful, because without China in the market, we don't have one at this point in time," he said. "They're critical to our industry as they move out of this crisis that we're in with the COVID shutdowns around the world." Obviously, here he's talking about the politicians not causing them issues. Let's hope.
Here's the latest wool prices from Woolmark which demonstrates considerable volatility and shows we're a long way off pre covid levels.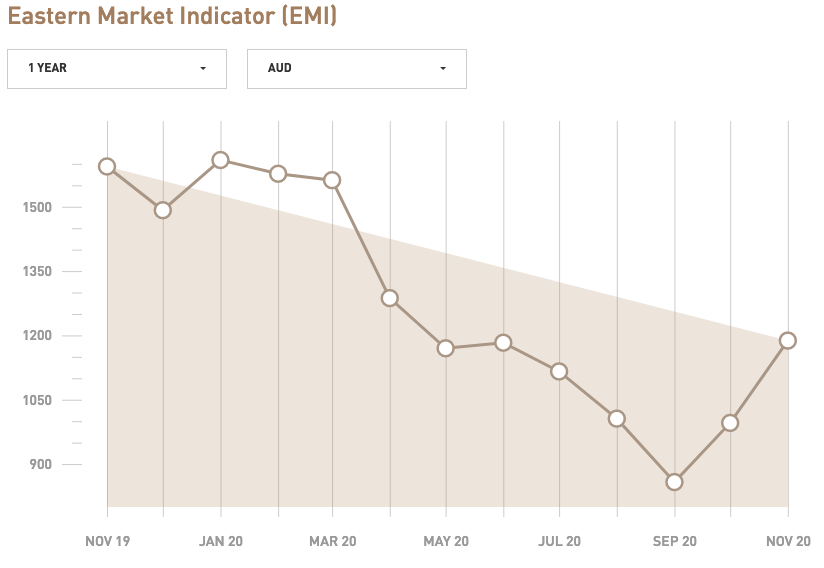 Wine
Despite a tough year, AU wineries sold $2.998b in wine exports, the highest level since 2007 – volumes were down slightly but value was up. That's great but now China has issued verbal instructions to stop shipments of AU wines. This is $1.26bn in trade though is consistent with other directives issued recently. The Chinese deny but of course nothing's been written down. Once again the AU government is "seeking clarification" but since this news hit the airwaves there has been no AU wine cleared customs in China. None.
62% of all AU wine is exported with China taking centre stage so this is not good news, especially when you see that China takes just under 3 times that of the number two importer, the US. In fact the 9 other top exporters only take a combined $1.44bn. Also, China takes the premium wine with the US and UK tending toward the "value" end.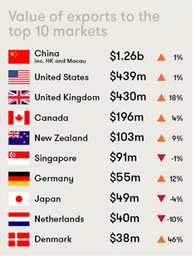 Chinese wine drinker numbers have doubled in the last seven years, with most wine drunk being rice wine produced locally. Australia has accounted for 25% of all China imported grape wine till this point. The US is the world's largest consumer of wine consuming around $13bn in wine in 2018 but whether or not they and others can take up the slack created by China is doubtful. I guess we'll have to wait for clarification… again.
Lobster
In October you read…Things looking up for fishers after 2020 start, then in November you read… Australian Lobster Exports 'Singled Out' by China… with tonnes of lobster stuck on the docks in China. In 2018-19 more than 94% of Australia's $752 million rock lobster exports went to China and when China went into lockdown earlier this year, prices dropped from $90/kg to a low of $20/kg. That's a serious punch in the nose so while fishermen go to sea, they're coming back not knowing what prices they'll get.
Timber
And here we go again again… now we can add timber to the list of products banned or 'under scrutiny' by China with fears copper and sugar will be next. That will make barley, wine, cotton, coal, barley, beef, timber, crayfish and very recently sugar and copper; did I miss any out?
Former ambassador to China, Geoff Raby got it right in pointing out the vulnerability of Australia (and NZ) to China and added that whilst many countries are dealing with China throwing its weight around, the relationship with Australia is particularly poor and needs a circuit breaker rather than retaliation.