Farm Sales
The rural property market continues to thrive with local buyers driving the market and clearance rates at 100% in Vic. Farm sales are strong across Australia and are in line with farmers investment sentiment, which remains high.
Hobby farms – are also in high demand on both sides of the country, fueled by government building incentives but more particularly by people re-evaluating their life values through covid, greater acceptance of working remotely and a desire to escape the covid hit cities.
Grain - NSW
The grain crop is predicted to be exceptional with wheat above 2010 levels of 10 million tonnes. So tonnage up, but with concerns around prices through a flood of product hitting the market. Many farmers are looking to store grain to give them greater upside, with silo manufacturer Kotzur reporting that orders have increased by 300%; and the prediction is this won't be enough.
Grain - WA
Widespread August rain (7-9th) changed the game for the 2020 growing season, with some areas noting crops were beginning to go backwards. The WA crop estimate is 14.9 million tonnes, just short of the 5 year average of 15.29mt. Thanks to China's 80% tariff, barley plantings are well down with a corresponding gain to wheat which could see it exceed 60% of WA's total grain production.
Globally wheat stocks are expected to rise which will cause prices to soften though a drought in the Ukraine and Russia's wheat areas may change that.
Here's Australia's harvest predictions – it's hard to read but anything orange, red or dark represents a predicted below average harvest; there aren't many of those. All up 47.9m tonnes of grain is expected to be harvested through AU, a whopping 20% above the 10 year average.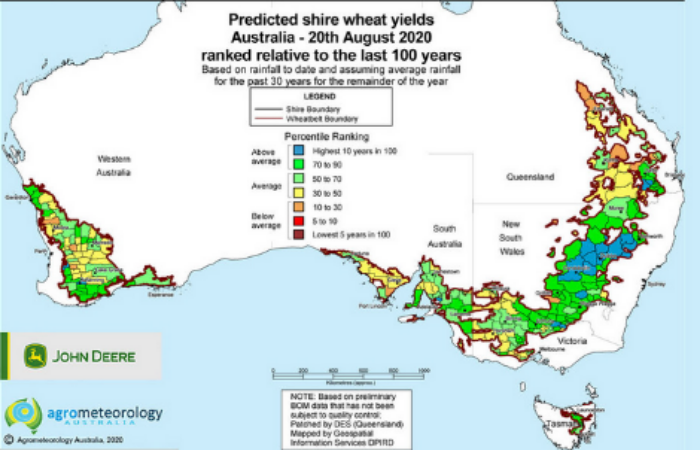 Zero Tillage Research
Commonly known but now it's official; a 50 year study by Qld University proves a big yield advantage, greater soil moisture capture and soil, in zero tillage compared to cultivation.
Beef - Numbers and Prices
The Eastern Young Cattle Indicator (ECYI) reached another record to sit at 784 cents a kilogram (carcass weight), subsequently breaking through 800 cents/kg (278 cents ahead of last year). As you see in this graph, these are big numbers, well ahead of previous years, which reflect depressed herd numbers, the lowest in 30 years, and the resultant competition between processors and restockers.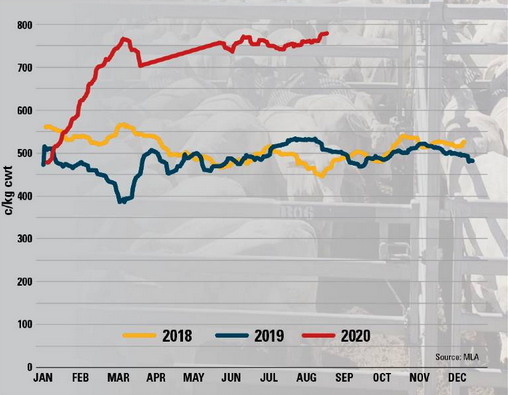 Currently AU cattle are called "The World's Most Expensive". Prices are predicted to soften when farm restocking is complete, I guess looking at the above it looks inevitable though it's a guessing game perhaps more driven, in the short to medium term by supply problems than softening economies:
Supply wise – it's pretty dire right now at 27% less this August than 2019
If La Nina shows up – you can expect more farmers to hold stock back in response to high levels of grass cover and short term you could expect supply to all but dry up.
No argument that prices can't continue to defy gravity, though there are predictions that consumers will begin to swap premium beef for cheaper types and cuts of meat as stimulus packages run dry. I only buy a portion of that – between NZ and Aussie production is small and people who want the best will continue to be able to buy it. We'll see.
Beef - Grain Fed
Rabo's senior animal proteins analyst Angus Gidley-Baird has released a report predicting AU's total grain-fed beef exports could increase 65 per cent by 2030, requiring a lift in numbers of "genetically suitable cattle". I gather this is influenced by predicted demand and the need to reduce reliance on pasture but "grass fed" and "free range" are tremendous marketing advantages for Aussie and NZ so it'll be interesting.
Dairy
Early figures show an incredible recovery in milk production during the latter part of the season ending just 0.2 per cent down on the 2018/19 year against a predicted 3-5% reduction. Even so the preliminary milk total of 8.775 billion litres is still Australia's lowest in nearly 25 years, since 1995/96.
Early commodity predictions from Fonterra Australia were $6.06 per kgMS, with others estimating up tp $7 (against a production cost of $5.50 – $5.65). Expect prices to bounce around considerably under current circumstances though nobody seems to be panicking.
No news on the stoush between what supermarkets in Queensland pays farmers and charges consumers. I still can't believe that milk costs less than bottled water in AU.
Sheep Meat
One again restocker demand is a key driver with scanned in lamb ewes (SIL) leading the charge, as well as ewes with lamb at foot. Producers from Central West NSW have been the dominant buyers as their season turns around and they look to restock as quickly as possible.
Prices too have been strong for SIL stock with joined ewes averaging $277 a head year to date, joined hoggets averaging $303 and joined lambs averaging $298; all are up around $100 on last year. Sales to date still remain above expectation though you wouldn't think so given sheep farmers are amongst Aussies most pessimistic ag. sector (see below).
The national flock sits at around 64 million, the lowest numbers since 1904 and a third of the 180 million sheep of the 1970's.
Cotton
Price forecasts for cotton (and wool) are not good due to clothing store and textile mill closures and, in particular, low oil prices. And if oil prices remain low over the short to medium term, prices of synthetic fibres will also remain low. This will provide an incentive for manufacturers to substitute more synthetic fibre into textile blends instead of natural fibres. This incentive for substitution is expected to put downward pressure on the prices of cotton and fine to medium wool. This graph tells the story.
The good news is that prices will be off-set as Australian production looks set to increase cotton production by up 250 per cent year-on-year and is set to exceed two million bales.
Horticulture
It's anticipated that production will be significantly up on last year and with Qantas cutting international flight numbers by a massive 90%, when spring and summer hits there could be some serious logistics problems in getting high value fresh produce to market. Air NZ has cut flights by 95%.
But it's not just horticulture that's affected; while ships handle the vast majority of what farmers and food processors actually export, aircraft are essential to move a range of short shelf life products as diverse as milk, meat, fish and molluscs. National carrier Qantas, alone, would normally send Australian freight to more than 500 destinations worldwide via 22 dedicated freight handling terminals.
Flights in and out of the country, and interstate, are back to a bare minimum, yet markets for perishable, time sensitive exports still remain open for business.
Earlier this year the AU government gave $110m toward produce airfreight and NZ $330m. The NZ Government has agreed to extend IAFC (International Airfreight Capacity) support agreements until the end of November 2020. The Australian Government has committed an additional $241.9m to the IFAM (International Flights Assistance) till the end of the year.
Wine - AU
Aussie wine growers face very stiff times. Only in recent years has the industry recovered from what was a period of over-supply that caused a decade long recession in the wine industry. They then had a few good years (when China picked up the slack), then drought, then fire (a huge smoke taint issue) then pandemic and now a trade war with China; who are now investigating Australia's dumping wine into it's market.
It's predicted that many small to medium sized businesses will not survive but that's overlooking McWilliam's winery of 141 years and AU's 6th largest, going into administration early 2020, so is anyone safe?
It's suggested by one commentator that Ausdtralia needs to redouble it's efforts to bring back the American market among others. The US is currently AU's second largest market and their 'on-premise' sales (bars and restaurants) were down by USD$47 billion in March and April '20 YOY. These sales are not as high as off licence sales but are important reputationally and incur high margin. Problem is you can't just switch markets on and off.
This is perhaps the most challenging period the wine industry has been in and if anything China's settling down as well as positive results from Australia's tri-lateral agreement with Japan and India would be a tremendous boost to the industry.
Wool
Another hit a few weeks ago with the AWEX Eastern Market Indicator (EMI) falling to its lowest level since October 2012. It's fallen below 1000c per kg to 945c/kg, a decline of 59c causing confidence to all but disappear. Since June prices fell by 165c (15%). More recently the change in seasons (autumn-winter garments) caused a 50c lift (Merino and crossbred) which then fell back to settle up 32c. Nobody's jumping for joy with a lack of back up orders but it's got people feeling better about things.
With such a small national flock, wool production fell to 281,000 tonnes (6.2%) in 2019-20 with an anticipated drop again 2020-21 of 1.7%.