Kiwifruit
Seems to be a lot of gold in them thar hills – Kiwifruit Gold that is. A group of Kiwi Investors are putting a $50m fund together to buy existing Gold variety orchards and greenfield land. The money involved with this variety is incredible, it's a licensed fruit and last year orchard tenderers paid $400,000 per hectare for the planting rights (then you've got to develop the land and infrastructure from there). And the bids were oversubscribed by 350%. To buy an existing orchard costs up to $1m per HA with a full producing orchard returning at between 10%-13%. It's big money and demonstrates the confidence in the industry.
Fishing
Sanford, owners of 23% of NZ's fishing quota, has been hit hard by the loss of foodservice sales during the covid-19 pandemic, reporting a 46% fall in net profit to $22.4 million.
Revenue was down 14% and underlying earnings down 41% for New Zealand's largest and oldest fishing company. Sales in North America fall by 30%.
Dairy
Farm sales – as a sign of confidence coming back into the industry, after a somewhat depressed period three Waikato farms sold for >NZ$35m. Prices ranged from $24,000 to $27,500/HA, the highest sale was just over $15m. Two went to neighbouring farms whilst the other also went to a farmer.
Organic Milk – Fonterra's organic milk payout hit a massive $10.19/kgMS 2019-20, with a forecast of $8.50-$9.00kgMS for the coming year. Fonterra has 74 suppliers to date.
Latest Forecasts – most forecasters have upped their predictions of late to around $6.75kg/MS. As usual they recommend caution due to market fragility, but there's always a reason. So with production costs sitting around $5.95/kgMS nobody is too nervous at this point. Average debt per dairy farm sits at around $4m.
Fonterra's Anchor Milk Brand – has launched NZ's first recyclable two-litre bottles made from sugarcane.
The sugarcane is natural, renewable and sustainably sourced in Brazil, one of the largest growers of sugarcane.
In addition, the plant captures carbon dioxide from the atmosphere as it grows, resulting in a bottle that has a lower carbon footprint.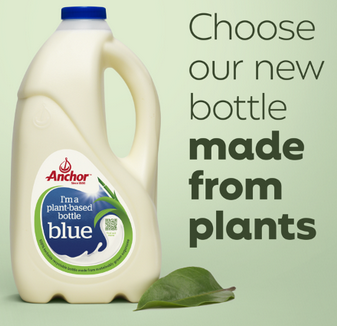 Red meat
Sales of red meat – up to this point things have been trucking along – total exports to the US reached $400 million for the September quarter, followed by a 42% rise to the UK to $71m, and Germany a 25% increase to $70m. This offset a 25% decline, $530m, to China despite the value of sheepmeat and beef exports to China remaining at an historically high level.
And with exports of $1.69 billion, the same as 2019 it's a pretty solid quarterly result. The YE Sept 2020 records an 8% increase YOY to $9.39bn. And there's been a shift from chilled to frozen sheep meat due to the switch from food service to retail and online trade. Jim Goodall, CEO Progressive Meats and Atkins Ranch, echoes this, telling me the US market has been incredible and the retail sector is very strong, particularly with high-end retail and online sales through Wholefoods and Amazon Fresh.
In the immediate future, NZ is expecting a big buy up from the Chinese as they head toward their New Year which officially runs from 12-22 Feb; by the way, it's the year of the Ox (in case you're interested).
Beef & Lamb NZ Forecasts for 2020-21- they're not painting the picture farmers would want to see for the next 12 months because of ongoing Covid disruption with an expected decline in receipts through 2021. Whilst NZ will continue to benefit from ongoing swine flu effects.
> Lamb – the lamb crop will be down due to a decrease in the numbers through drought and decreased numbers of breeding ewes. Overall, a 14.8% decline in receipts.
Sheep meat – mutton's expected to decline 16%, 10% of this is due to farmer flock rebuilding. Covid is cited as the predominant driver here, particularly given the decline in food service but Brexit is also mentioned.
Beef – revenues are expected to drop 9% while production volumes will hold steady. They predict an increase in competition and a decline in food service though beef does really well through retail as an alternative. Ground beef has done well post Covid.
Farm revenues – are forecast to be down 10% to $559,300 average. Cattle down 5% and sheep 14%.
Expenditure – is expected to reduce 4.8% with a reduction in interest costs by around 10%.
Farm Profit – pre-tax EFS (effective farm surplus) is forecast to be down 26% to $115k average.
My Take – who knows, it strikes me that making accurate predictions is like nailing jelly to a wall. Either way, in 2016 they were predicting an average EFS of $70k odd so this isn't the end of the world and we're coming off some pretty solid seasons. The only thing we can depend on is a reduction in export volumes due to drought and restocking behaviour so, like AU, it stands to reason that farmer returns will take a hit.
Wine
Seems that northern hemisphere consumers have a drinking problem judging by their at home wine consumption during Covid-19. In the eight months to August 2020, Rabobank report that the volume of New Zealand wine exports rose by 10.7% and the value by 9.7% in comparison to the same period last year. This despite rising tariffs. You'll find these drinkers throughout UK, EU and the US and they're particularly interested in NZ Sauvignon Blanc where exports jumped 261m litres, or 13% in the 8 months to August. Sauvignon Blanc makes up 88% of NZ wine exports though give me a chardonnay any day.
Wool
Having read 12 odd pages in a farming mag on the wool industry in NZ it seems nothing's changed, just a different set of voices saying the same thing
there's a gap in the market to promote it because the Wool Board no longer exists
we should be exporting the final product instead of the woollen component
we need to develop equity partnerships with NZ and international companies
we need to find alternative markets.
Well, farmers voted the Wool Board out and nothing will change until the vast number of incredibly environmentally sensitive consumers realise the value of the product versus synthetics and is prepared to pay for it.
Wool Prices – meanwhile on the trading floor we're seeing a price recovery through growing demand and stock shortages of all wool types following the 40% hiding it took post Covid. China's back on the move as is India, in the lower grades for rugs, and it's interesting to read that Europe's coming back but according to PGG Wrightson, prices still have some ground to make up.