Land Prices
NZ prices too are on the move though they don't match the AU trajectory. According to Real Estate Institute of NZ (REINZ) there were 390 farm sales for the March '21 quarter, that's 113 more (+40.8%) than last year. This visual says that the market "Remains Steady" though with the exception of dairy they all look pretty strong to me. And dairy land prices will also start to move in the face of recent and predicted returns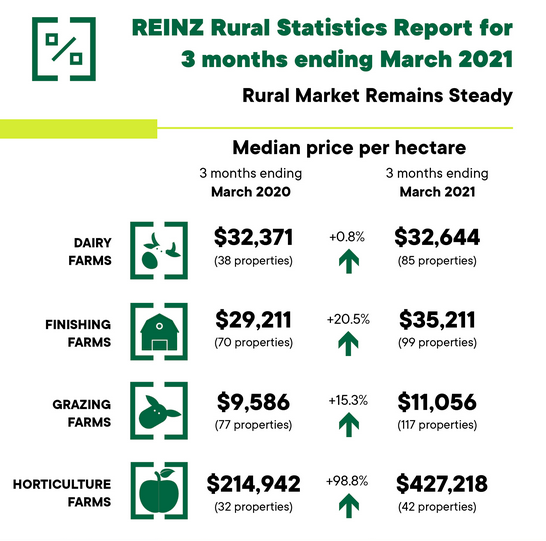 Fruit and Veges
Fruit and vege prices inflated 9% in 2020, more than any other category:
restaurant meals and ready-to-eat foods, up 3.8%
grocery foods, up 1.8%
non-alcoholic drinks, up 1.7%
meat, poultry, and fish prices, down 0.7%.
In a climate of a CPI rise of 1.4% it's largely down to the labour shortage causing scarcity. World food prices increased by 3.1% YE 2020.
Apples
Apple & Pears NZ latest forecast for the national crop is 347,718 metric tonnes or 19.3 million cartons. This is 3 million cartons or 14% below 2020, representing a $95-$100 million year on year reduction of export earnings. Put this down to hail damage in the South Island and a major labour shortage. These figures match what I was told by Richard Bibby of Thornhill, one of NZ's largest horticultural labour contractors. I never thought the labour shortage would eventuate, the problem was apparent April 2020, the Pacific Islands on the door step, there was time to plan it all out but oh no, they decided to let the casts of the Lion King and Wiggles in instead. Australia wasn't too sharp either.
Great to see the islands starting to open up now though and hopefully in time for pruning.
Machinery Sales
The Tractor & Machinery Assn of NZ (TAMA) report tractor sales being up 15.3% YOY Dec 2020 but with a 25% drop in the higher HP range. The only sector to stay largely unchanged is the smaller lifestyle market but overall the industry is on a "positive note" – no surprise when you consider that tractor sales were down 60% mid 2020 but came home under a wet sail (yachting term) with December sales up 18.4% on 2019.
Now for the quarter ended March '21 they're up 19% on the first quarter 2020 marked by a nearly 60% increase in the 150 HP plus range. NZ doesn't enjoy the write down benefits of AU so the sales trajectory hasn't been as large though sales have been robust none the less.
Dairy
Dairy is NZ's single biggest export earner and it's in good heart as it is in AU. Here's what the major players are saying: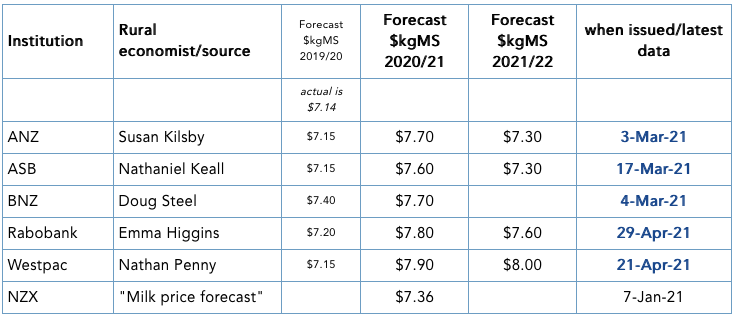 NZ Dairy Carbon FootprintNZ is unique in that 95% of its milk production is exported (compared to 40% in AU) so I guess such a reliance has a large influence on the need to ensure it's seen as the most sustainable producer worldwide.
These metrics will grow in importance over time:
Red Meat
Lamb
NZ Beef & Lamb are expecting 2020-21 total lamb export receipts of $2.9 billion, 14% less YOY, driven by a 4.4% decline in lamb production and a 10% decline in the average export value of lamb per tonne.They plus Rabo and ANZ expect things to pick up coming off the peak of the kill given the market demand, particularly from China but also the US. Food service recovery is expected to be stuttery but it is coming back so while farmers are expecting a subdued year, nobody's panicking.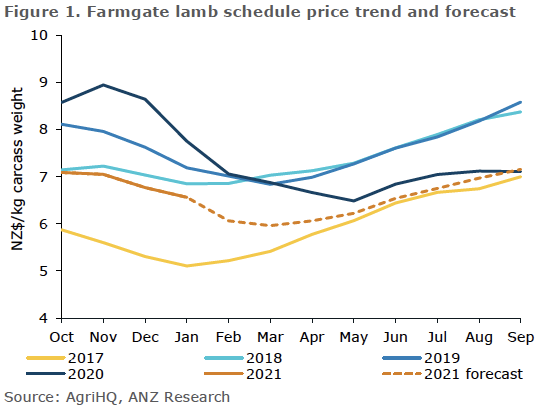 The Country magazine describes sheep meat as the golden goose for farmers with contract prices for supply in June/July tipping $8/kg. This is not too dissimilar to Australia.
Beef
It's largely BAU for beef in NZ with prices falling through Q4 of 2020, they've come back in the new year. The US demand is described as very strong despite Covid and export demand in general also remains. The recovery underway in the US has also helped the USD to strengthen so the NZD has eased back which again puts a little more in farmers pockets.
Rabobank expects solid returns from key export markets to see farmgate prices generally hold firm in the immediate future with some potential for upward pressure.
Venison
October '20 to Feb '21 slaughter was down 10% from 166,655 the year previous to 150,770. This is reflected in the fact that venison is largely a food service versus home cook product though demand is beginning to pick up. Processors are picking a price in excess of $7/kg for chilled product – better than last season but still well below the $9.04/kg average.
As I understand it velvet still rock's along, particularly in the Asian market given it's capacity to increase virility (so I'm told) and boost the immune system. Good for them I say.
Live Export
The Australian livestock export industry, which generates AU$2 billion-a-year, has distanced itself from the New Zealand industry, which has been banned from exporting livestock by sea, the ban being phased in over two years. Aussie farmers are delighted at the opportunity this has presented them and who can blame them, but you've got to seriously question the stance of the NZ Government on agriculture at a number of levels, from sustainability to water and winter grazing regulations, live export and now they're plowing $20 million into an alternative protein R&D programme. They don't seem to understand that A) farmers are doing a helluva lot to mitigate environmental damage, B) they're not the villain here and C) NZ would be up the creek without the ag sector right now.
Timber
In NZ when Covid hit the experts unanimously predicted house prices falling 15%, but with the lowering of interest rates and a net migration gain of 40,000, instead they've increased by 15% in one year, more in some areas. The pressure on housing in NZ is immense, I see it's occurring in parts of AU as well but guess what – NZ's run out of timber because processing facilities, Carter Holt Harvey in particular, haven't been able to scale up their manufacturing capacity. Everywhere you go in NZ you see woodlots and forests. A good time to be in the brick trade but ironic considering the forestry in NZ.
Wine
The NZ wine industry earns its reputation off the back of Marlborough Sauvignon Blanc but this year they're predicting a 30% lower crop than the long term average due to cool temperatures and frosts during flowering. Wineries are currently walking away from deals in order to keep favour with existing customers, as they should. Last year NZ hit a record breaking $2bn in sales with exports to key markets increasing 18% over the past 18 months. That's a big increase.
Potatoes
People aren't eating fast food in Europe because food outlets are/have been shut so Belgium and Netherland suppliers ship their excess chips off to NZ (amongst others probably) and undercut local prices. From lobbying by Potatoes NZ the NZ government investigated, found evidence of dumping and stated… dumping was likely to continue but concluded there was… not a threat of material injury to the domestic industry as a result.
"Dumping" is dumping and by implication means you quit a product somewhere else at a price designed to do just that – quit it. And even if it doesn't impact the local price (I don't know if it has or not) surely it lessens the chances of domestic growers enjoying greater returns. Or is it just me?
Kiwifruit
There's "an explosion" of illegal Chinese grown SunGold kiwifruit hitting the market in China – around $1bn of it in fact. Zespri owns the rights to it but try telling that to a Chinese grower so now they have a problem with some fearing things could get out of control. There's at least 5500HA of it being grown in China, almost as much as NZ at 6500HA.
Effectively the horse has bolted so Zespri is trying to work with it by helping the growers in China to grow to Zespri's standard (which maintains brand integrity), the growers then market through Zespri and the fruit is labelled and identified as the real deal. They're conducting a three year trial on this.
The Chinese also produce during NZ's off season so this will give Zespri year round supply and improve their position with retailers. Sounds sensible, let's hope it works.
Wool
An NZ farmer and chairman of Campaign for Wool, Tom O'Sullivan, has stated that wool may not be sustainable in NZ given last year's shear costing more than the returns he got from the clip – for the first time in 3 generations on the farm.
Fine wools are ok but makes up 10% of the volume with 80% comprising strong wool used for carpets and rugs. Wool exports fell 30% to $367m YE Jan '21, less than live animal exports. It did get belted by Covid so I'm not sure how much you can read into that. But if it gets to the point where farmers shear their sheep for animal health reasons they've got themselves a problem; they'll certainly turn from the staple breeds of romneys and perendale.
The decline has been going on for years – everybody's talking about it (like me) saying things like… we've got to get people buying wool again, but nobody says how (I'm like that too). Problem is it can't compete at a number of levels with synthetic flooring.
Arable
In the 80's NZ had 30 – 40 flour mills, today there's only 4 of which 3 are foreign owned. NZ also holds the world record for the highest per HA wheat yield – twice in consecutive years from the same grower, Eric Watson. In 2020 he grew 17,398 tonnes per HA. NZ averages 9-10 tonne per ha compared to AU at 2-3 tonnes but then NZ only grows 0.7% of the AU crop – 400,000 tonnes vs 55 million tonnes.
NZ's crop essentially goes to stock feed – it's grown in the South Island close to a huge dairy cow population, dairy farmers often pay higher prices for NZ feed grain, and AU wheat is cheaper to ship to Auckland than to get it from the South Island. Supermarkets sell 80% of NZ's bread and imports 250,000 tonnes of wheat to make up the shortfall.
Freight
NZ has International Air Freight Capacity was extended by one month to end April '21 after which they would review it. Since when does an extension of one month provide "certainty"? – importers want to know NZ exporters can reliably supply and airlines have routes to plan. Not sure where it's at right now.
Farmer Confidence
NZ Farmers – Fed Farmers Research
NZ Fed Farmers Jan '21 survey is very consistent with the Rabo survey of the previous quarter 2020 in that farmer confidence has bounced back to pre-Covid levels. You'd be surprised were this not the case given the whole world (except for Pfizer and Netflix) went into shock not knowing what to expect, but farming sailed through brilliantly.
Note: The Fed's survey only included sheep and beef and dairy so didn't include orchardists and others who were expressing a low level of short-term confidence given the labour crisis looming at the time.
Of the 1100 farmers interviewed:
5% considered current economic conditions to be good – up from 28.6% considering them to be bad in July'20 (the lowest level in the 12 year life of the survey)
8% expect economic conditions to worsen over the next year – down from 58.7%
Farmers three greatest concerns in NZ unsurprisingly, are all related to Government policy:
Regulation and compliance 18%
Freshwater policy 16.7%
Climate change policy 13.6%.
Other findings:
Profitability – 49% reported making a profit, and 18% expected it to worsen compared to 35% in July
Production – 14% expected and increase down from 16%
Spending – 11% expected it to increase, a 24% increase from July when 13% expected a decline.
Staff – 35.8% said it was harder to recruit and retain skilled staff, up by 8%.
AU Farmers – Rabo Farmer Confidence
Rabobank's Feb Survey of AU farmers should be no surprise given the trajectory the industry is on. Confidence among the 1200 interviewed is at exceptionally high levels thanks to commodity prices and favourable seasonal conditions. They've also upped their profit projections which is driving a "major investment injection" into farm businesses.
They've reached a point now where the farm viability index is the highest on record – it measures the view they have of their own business. Results by states:
NSW – the most positive with 92% expecting improved or stable conditions
VIC – also has strong investment plans especially among dairy farmers keen to modernise water infrastructure
TAS – has the strongest appetite for on-farm investment in AU
SA – down slightly on the previous quarters results but still very strong
WA – at a five year high despite limited rainfall but driven by commodity prices
QLD – again strong confidence levels despite seasonal conditions with "near-record" investment levels planned.
Results by Sector:
Grain growers – are the most positive coming off the back of a great year and another in prospect – 49% expecting better conditions and with high investment intentions including property purchase.
Cotton – remains strong with 43% expecting improved business and 56% the same as last year.
Sheep and Beef – a high level of confidence with 40% expecting conditions to improve
Sheep Only – 38% optimistic with an expected wool recovery and summer conditions driving it.
Investment:
41% expect an increase in income and 46% expecting the same
36% indicate a propensity to increase investment and only 5% planning a decrease.
The story in one picture (below) gives you the percent of people expecting the agriculture sector to improve over the next 12 months less the percentage expecting it to decrease: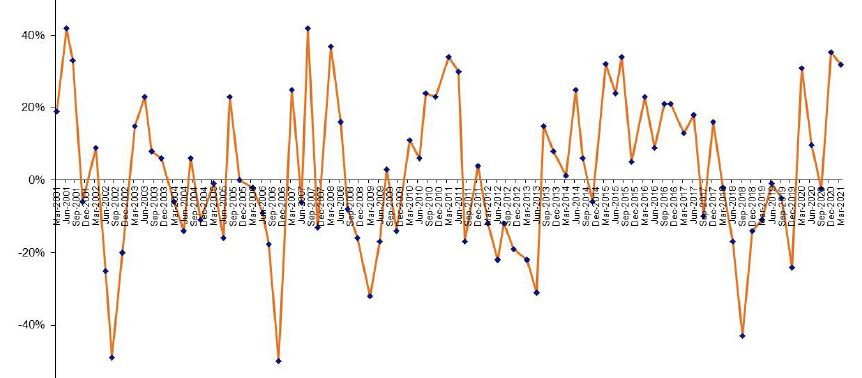 Again I'd like to have heard what the horticulture and viticulture sectors are thinking given what they've gone through with the seasonal labour shortage. Hopefully a one-off situation though.
Footnote: Sure things are good in Aus right now though it always seems to me that the Aussies are a more optimistic lot than their Kiwi counterparts.