At the beginning of covid I read that this is... the deepest global recession in eight decades followed by … Senior (NZ) economists are predicting unemployment to reach 15%, with one warning it could even hit 30% as Covid-19 brings the economy to a shuddering halt. I also read... Agriculture is holding its breath amid many other similar articles. To date outcomes have well outpaced predictions.
In our key markets, we see a bounce only in unemployment in India and the US, and in others we see unemployment tracking up but nothing like the comparisons to the Great Depression I've read – that lasted 12 years, long term unemployment hit 30% in the US and between 1929 and 1932 the US stock market lost 89.2% of its value.
N.B. AU unemployment in Jan '20 was 5.3% and went to 6.9% in Sep. NZ was 4% in Dec 2019 and now sits at 5.3%.
GDP wise, the IMF is predicting an economic bounce back in 2021 which may be accentuated now that Trump has single handedly found a cure.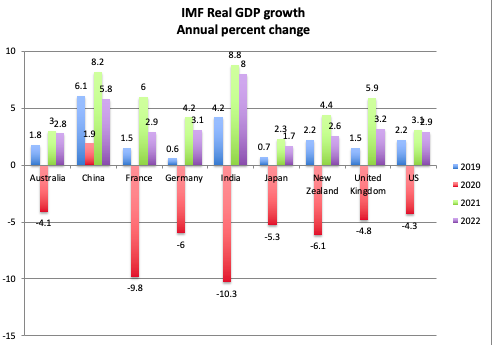 In retail spend, when people come out of lockdown they're reaching for their credit cards:
Chinese retail sales exceeded 2019 by 3.3% in September
US retail sales were up 6% on Sept 2019
UK sales increased 1.5% MOM Sept and increased by 17.4% for the Sept quarter
retail sales have improved in Korea, Vietnam, Japan and Singapore.
So for the key AU and NZ trading partners, it's not all doom and gloom especially where we see that:
with the exception of food service, food and beverage sales have done well out of Covid.
research undertaken in the US by McKinsey notes that low income earners have been four times more vulnerable than medium income earners, while high income earners have barely been affected.
ANZ operates at the premium end and food safety and nutrition have a leap in priority thanks to Covid.